What's your top priority as a business owner? Is it to earn more revenue? Expand your business into new markets?
Or maybe you want to establish your brand as the best in the industry.
Whatever your goals are -- you won't be able to reach them if you're steady working on time-wasting tasks. If you're regularly checking and answering emails, taking calls from prospects, and managing your own finances, then you know this all too well.
While these duties are essential to running a successful business, it's not something you have to do. You can easily delegate these and a host of other administrative tasks.
Virtual assistants (VAs) are valuable tools many business owners ignore. Let's take a closer look at why you shouldn't do the same.
The Benefits of Delegating Tasks to Virtual Assistants
Not entirely convinced that you need a virtual assistant? Then you're not seeing all of the benefits that come with delegating time-consuming duties.
Let's take a look at some of them.
Focus On Growing Your Business
It's difficult to focus on your business's growth when you're too busy managing paperwork. Where your focus needs to be is on training your salespeople, marketers, and other personnel that contribute to your growth.
You'll also free up time to look at the progress of each department and find ways to fix issues they're having.
Minimize Stress
This goes for both yourself and your employees. It's good to remove mundane tasks from the to-do list of your marketers and salespeople, so they're able to focus on marketing and sales.
In doing so, you help to reduce the weight on their shoulders. Stress-free employees are the most productive!
Boost Your Revenue
When your teams are productive, and you're focused on making improvements for growth, you can expect it to help your bottom line.
Your salespeople can now focus on prospecting and closing deals. And your marketers can push out more content to drive more qualified leads to your organization.
Next, let's take a look at some of the tasks you should delegate to VAs.
1. Calendar Management
There's a lot on your plate as a business owner. You have to attend meetings, jump on calls with partners, and plan events.
Being able to schedule your days and keep track of it all can be difficult. Yet, you need an organized calendar to ensure you don't miss any important dates.
A virtual assistant can help by managing your calendar and even setting up alerts, so you don't miss anything essential.
2. Email Management
Email is a necessary tool for businesses, but it's also a major distraction. The issue many business owners have is drawing a line between work-time and message time.
Any time there's a notification for a new email, they tend to check it right away -- even while working. The problem with this is that this doesn't happen once or twice -- but consistently throughout the day.
By outsourcing your email management, you can ensure your messages are answered in a timely fashion. And you can focus on running your business without the worry of missing out on prospects.
3. Travel Reservations and Planning
Going on business trips is no vacation, and neither is planning for one. You have to shop around for the best deals on plane tickets, hotel rooms, and rental cars.
Then if you're going to eat out, you have to know which restaurants are nearby that serves meals you like (and can afford).
An itinerary is also a must to ensure you know where you need to be each day of your visit.
A VA can organize your travel plans and book them, so all you have to do is arrive on time.
4. Creating Your Email Newsletter
One way businesses are capturing leads is through email signup forms. You can use these to collect emails from users interested in your product or service.
Then you can use that email to deliver weekly, bi-weekly, or monthly newsletters. However, it takes a lot of time to research topics, write, and design the newsletter.
Again, you can use a VA to help with all of this. You can still play a role by approving the topics and the final piece (if you want to be involved).
5. Data Entry
If you're manually inserting details about your customers, prospects, or business finances, then it's time to delegate. Yes, this information is necessary to record, but you don't have to do it yourself.
You need a virtual assistant with experience who can type quickly and accurately. This will save you a ton of hours each week you can use for other essential tasks.
6. Sending Out Thank You Cards
There are multiple ways you can keep in touch with clients and stay top of mind. At the end of each project, it's good to send out thank you cards to your customers.
You can also send out greeting cards on special occasions, such as holidays, birthdays, and anniversaries.
This shows you appreciate them. You can even go as far as to include an exclusive deal to earn their repeat business. There's nothing like building a recurring customer base.
However, as you grow larger, you won't be able to do all of this on your own. Hiring a virtual assistant will be the best decision you make in this scenario.
7. Video Editing
Shooting video content is one of the best ways to connect with audiences today. Most consumers are online, looking for information, products and services, or entertainment.
By delivering content in this format, you can reach a wider audience. For example, you can convert blogs into videos, demonstrate products, or create tutorials.
After you complete the shoot, you can delegate the video editing to a virtual assistant. This will make it quicker to get your content published without weighing down your plate.
8. Moderating Blog Comments
What makes blogging great for business is that you can generate hot leads. It can help boost your ranking in search engines to make it easier for your prospects to find you.
Then if your content is engaging, you can expect for visitors to leave comments. It's important to monitor the comments on your blog to ensure spammers aren't polluting your site and that questions are being answered.
You can hire a virtual assistant to watch for comments and respond to (or delete them) accordingly.
9. Bookkeeping
It takes time to carefully go over all of your expenses and revenue to ensure they're inserted into the books error-free. Capturing all of this information can also be time-consuming.
Most business owners don't have the time or the skill to do their own bookkeeping. This is why we recommend hiring a virtual assistant who specializes in accounting.
They'll have the tools and know-how to ensure your books are always up-to-date. Plus, they can do your taxes each year and act as a representative in the event you get audited.
10. Online Chat Support
Being available to online via your website is a must in today's digital age. Consumers are looking for fast and convenient communication with brands.
So if you don't already have an online chat system for your site, then it's time to get one. Once you have one set up, you're going to need someone to operate the chat system.
What's excellent about virtual assistants is that you can hire more than one to keep your online chat system operating 24-7.
5 Tips for Delegating Successfully
When it comes time to hire a virtual assistant, there are some things you should keep in mind.
Here are several tips you can use to make delegating tasks a success.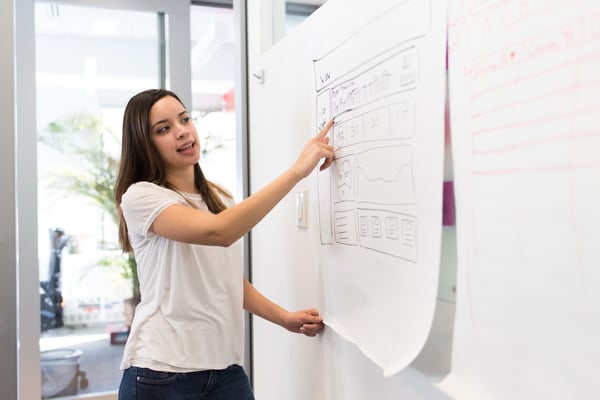 1. Hire One Virtual Assistant at a Time
You understand the many benefits of delegating tasks. But you don't want to get trigger happy and end up hiring multiple at once.
The issue with this is trying to train more than one VA at a time will be hectic. You have to take time to show your virtual assistant the ropes so they can be effective in their new roles.
2. Give Clear Instructions for Assignments
You want your virtual assistants to succeed in the tasks you assign them to. But they can't do this if your instructions are muddled and difficult to understand.
Be sure to lay out exactly what you want them to do and when the deadline is. If it's a large project, then set milestones for them to reach.
You can also supply them with guidelines, outlines, and other resources to make their jobs easier.
3. Set Up an Easy Way to Communicate
It's essential to have open communication with your virtual assistants. This will make it easier to work with your remote assistants.
There are several tools you can use to make this possible. Video conferencing tools like Skype and Zoom are great options. Then for project management, you can use platforms like Slack, Asana, and Trello.
The organization, face-time, and text messages will make it simple for your VAs to perform better.
4. Delegate Responsibility and Authority
You don't want to limit yourself to just delegating tasks. This will only turn you into a micro-manager. This will hurt your productivity almost as much as doing the work yourself.
This is why we recommend delegating responsibilities as well so they can take control of projects. They will now have accountability for their tasks so you can be free to run your company.
5. Use an Agency to Find Quality Virtual Assistants
Attempting to find your own virtual assistants can be difficult, especially if this is your first time. It takes time to vet your options, interview them, and get them onboard.
With the help of a virtual assistant agency, you can cut this time in half. For example, at Uassist.ME, we help by connecting you with already-vetted virtual assistants from around the world.
Whether you need remote assistants in a different timezone or that has special skills -- we've got you covered. We will help find virtual assistants best suited for your company.
We do everything possible to make it quick and easy to find virtual help.
Finding a Virtual Assistant for Your Business
It's time to improve the productivity of your company. With virtual assistants, you can free your time and refocus your energy on tasks that grow your business.
You can try delegating the tasks we mentioned or come up with a list of others that you find tedious, time-wasting, or challenging to do on your own.
Don't forget to implement the tips we listed to ensure your delegation runs smoothly.
And if you need help with finding an assistant, reach out to Uassist.ME today!