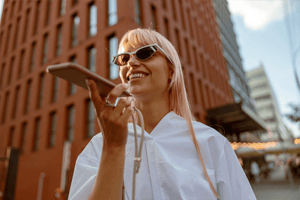 When it comes to using awesome apps to improve lifestyle, let me tell you that today you've come to the right blog.
Now, we're thrilled to share everything at our disposal to boost your happiness.
From time management apps to meditation and productivity software, we got it.
Especially for you.
Both android and iOS offer a huge variety of apps to download. Not only do they let you communicate or shape good habits, but also you will have a lot of fun using them. Such is the case of Facebook, Twitter or Instagram.
But work-life balance can feel hard to reach sometimes. However, good habits can be acquired and old ones unlearned with the help of the right productivity apps and in-app purchases.
So, now it's your time to enjoy these great apps so you finally
practice mindfulness
stay focused
improve your life
save time
Calm is a popular meditation app. Habits of this sort may seem hard to develop. However, calm touches your emotional well-being with simple sounds, beautiful images, and bedtime stories.
For example, you can listen to the rain while you see a stunning landscape.
Stress and anxiety reduction have become mandatory in the hectic tech times we're living in.
That's why meditation is (for some) as important as brushing their teeth.
If mind hygiene and healthy lifestyle is your cup of tea, you can't miss all the tools that this app offers.
Download the app and start enjoying the epic benefits of meditation.
Google maps works similarly to its web-based version. It will detect where you are currently located, and then draw a line where to the place where you need to go.
The awesome app features let you check public transportation routes in real-time. Or choose to change to a satellite view with only one button.
Also, you can follow voice instructions if you're driving.
This app helps you navigate complicated cities with precision. No matter if you're on a bike, car, walking or looking for the metro.
Within the latest updates and integrations with other apps, you can find:
Spotify integrations for commuters who listen to long playlists while getting to work
Sharing trip progress with friends and family so they can know where you are
The commute and explore tab, so you can visit landmarks or other spots worth looking at
If you are into music, Spotify is the way to go. "Soundtrack your life" is their motto. For a small fee, you can create a playlist on your computer for example, and then use your phone to wirelessly sync your playlist from this simple app.
You can even listen to it offline with no data charges! Of course, if you have a data plan, you can also stream online.
After all, Spotify has literally millions of songs available for you.
Another special feature of this music app is personalized curation. It means that the app recommends certain playlists just for you based on your specific interests and previous choices.
That helps you save the time of making your own playlists.
From music to stay focused with piano to epic classics, Spotify has them all.
Did you know that:
You can save the weekly recommendations playlists?
There's an integration with SoundHound?
You can use private sessions and don't feel guilty (maybe you don't want to admit that you like One Direction)
There's a way to order Playlist Folders and avoid chaos
You can recover those deleted playlists of the past?
Within the vast universe of mobile apps, this habit tracker and time management app is a must. Your Hour encourages you to meet the daily goal of cell phone usage. The one of your choice.
For example, you can set a 1-hour daily goal and when you're getting closer to the limit, the app will warn you in advance to manage your time more effectively.
Moreover, there's a constant display of the total amount of time you've used the cell phone so far in tandem with the number of daily unlocks.
Special feature: It includes motivational phrases about good habits, nomophobia, and cell phone addiction.
In the same vein, you can download rescue time for your laptop. This productivity app tracks absolutely everything that you do. It gives you all the daily, weekly, and monthly stats of your computer usage. And what's more, it classifies your usage it in
business time
having fun
social media, etc.
If you use the laptop mostly for work, this app can help you become aware of those moments you lose focus. And that's a typical scenario with social media.
Rescue time is a simple app that can totally change the way you use your devices.
This app is only available for Apple products; it is, however still worth mentioning.
As the name implies, it provides access to local information about the place around the world you are currently located. And, most importantly, in multiple languages. The app has a specific list of the places you can look for.
Need an ATM do go to the bar where your friend is waiting for you? Well, look it up using Find Near Me.
Whether you are searching for the closest gas station, cozy cafe or pub near you, in a place you are totally new to - the people of Find Near Me thought about you first!
This app features more than 50 popular keywords and you have the possibility to add your own. Also, if you happen to be traveling for business, you can enjoy the benefits of Find Near Me for Business.
Evernote is one of those apps only available for Apple products. You should still check this one out. It works as a personal agenda. You can take notes and pictures, create a to-do list, set up a voice reminder, and much more. You can also sync the notes on your PC or other devices.
It is a true gem for your personal - and corporate - life.
But the story doesn't end there. With Evernote, you can also:
Attach files (like any document) to your notes
Scan text and turn it into a photo by using Optical Character Recognition technology
Set checkboxes that will serve as virtual to-dos
Sync it automatically between all devices and access your notes if you're offline. However, this feature is only available for premium versions of the app
It's undeniable that you want to improve your life. Otherwise, you won't be here, right?
Speaking of which, why are you taking so much on your plate this year?
Isn't it time to start putting more energy and focus on your personal life?
Fuel your passions by working smarter.
You've come to a point of work where you are really good at what you do.
However, if you delegate all those taxing chores you can totally shine.
How is that possible?
By hiring virtual assistance services with Uassist.ME.
Some of the sensational benefits when you lean on a virtual assistant:
Feel less anxiety about all your unfinished to-do lists
Make progress more quickly focusing only on the tasks you excel at (and you definitely want to!)
Have a healthy sleep cycle—Forget about sleeping 4 hours a night to fulfill an impossible agenda
Some of the specific skills our virtual assistants have:
Writing (blogs, press releases, articles, website content, SEO content writing, etc.)
Graphic design (branding, logo design, illustration, web design, etc.)
Programming (HTML, CSS, PHP, C#, ASP.NET)
They can also handle:
Social media maintenance and social media marketing
Translations
Billing and collecting
Bookkeeping services
Customer service
It's simple.
Want to know more about productivity? Check out our blog.