Chat GPT is an Artificial Intelligence (AI) that has revolutionized the way we interact with technology and has found various applications in different industries. One of the most significant applications of AI is in the field of content creation, where it has enabled the automation of various processes, resulting in increased efficiency and productivity. At our company, we believe that AI has the potential to unlock endless possibilities for content creators, and we are excited to share with you how Chat GPT works and the many ways it can be used to revolutionize the industry.
How Chat GPT works?
Chat GPT is an inspiring language model developed by OpenAI that uses deep learning techniques to generate human-like language. GPT stands for Generative Pre-trained Transformer, and it works by using a massive dataset of text to learn the patterns and rules of language. GPT-2, the second iteration of the model, was released in 2019 and was trained on a massive dataset of over 45 terabytes of text. It was able to generate human-like text, including news articles, product descriptions, and even poetry.
How did They Get to 100 Million Users in 3 Months?
Chat GPT is a brand new tool that the world is constantly discovering new uses for. The field of content has already made significant inroads and is changing the way content is created and consumed. Its simplicity and ease of use have captured the attention of millions of people worldwide, resulting in over 100 million users in just three months. At our company, we believe that Chat GPT is just the beginning of a new era of content creation, and we are excited to see what the future holds.
Chat GPT is definitely a brand new tool that the world is constantly discovering new uses for. It is an innovative technology that has the potential to streamline processes, increase efficiency, and enable the creation of personalized and relevant content. We are always exploring new ways to use AI to enhance the content creation process and are excited to be at the forefront of this new movement believing that chat GPT is an essay writer for content creators nowadays and in the future.
5 Examples of Chat GPT uses in your business ideas
There are chat GPT best examples that companies can use to optimize their procedures of content creation and put in practice to start using AI in their business ideas; however, companies must know that their content always needs an edition from marketing specialists or any person charged on content creation before send or publish them on their channels.
1- Streamline Processes: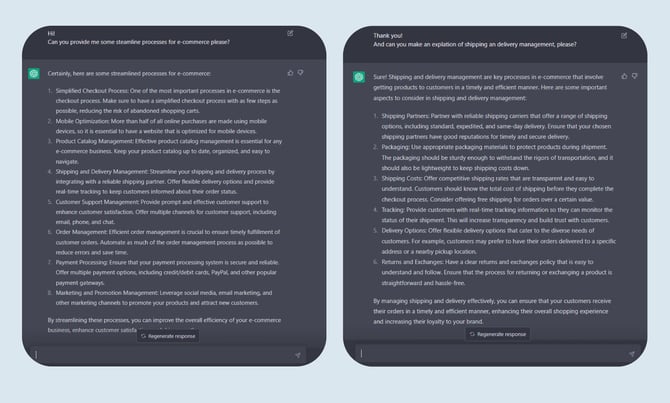 Chat GPT can be used to automate various content creation processes, such as research, writing, and editing. By using AI-powered tools such as Grammarly and Hemingway Editor, writers can improve their writing and check for grammatical errors in a matter of seconds, freeing up time for more creative endeavors.
For this article, we just went to Chat GTP and asked about streamlining processes for e-commerce and also asked them to build content that includes the previous elements, of course, you can give them more details to make it easy its work such as a) your strategy, b) your buyer persona, c) the format, d) specify the channel you'll use and so on you could continue to add more details as you needed.
2- E-commerce Uses:
Chat GPT can be used in e-commerce to personalize product recommendations, create product descriptions, and even generate product reviews. Amazon uses AI to generate personalized product recommendations for its customers, resulting in increased sales and customer satisfaction. By using Chat GPT, e-commerce businesses can improve the customer experience and drive revenue growth.
3- Ideas for Content: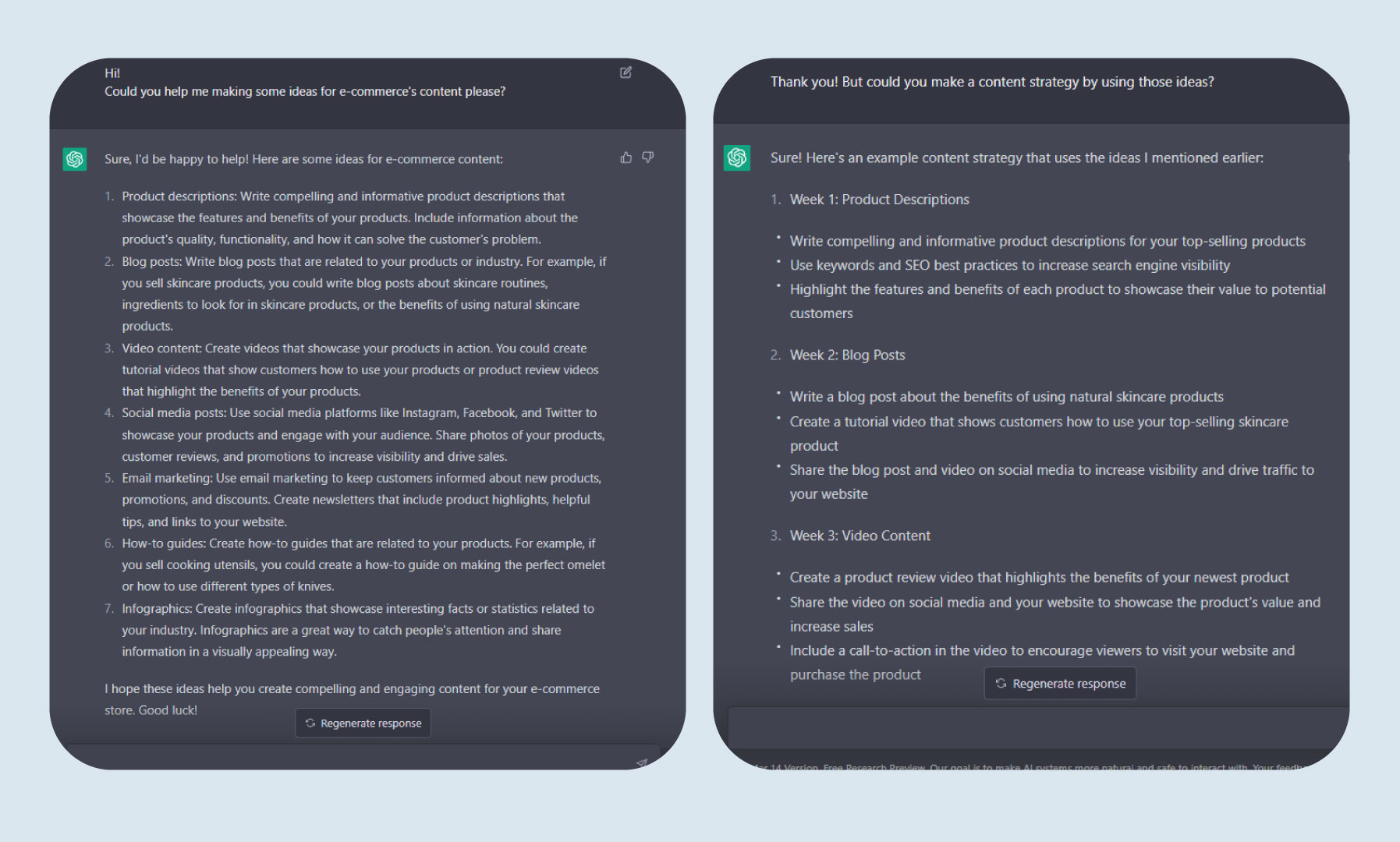 Chat GPT can be used to generate ideas for content by analyzing user data and identifying topics that are relevant and popular. Tools like Buzzsumo and Ahrefs can provide insights into popular content and topics, helping content creators identify gaps in the market and create content that is relevant and valuable. This approach can help businesses establish themselves as thought leaders in their industry and build a loyal audience.
That's why chat GPT is an essay writer because marketers and companies can build strong content with its features, additionally, optimizing their time to focus on tailoring or measuring the strategy when it's running. As you watch in our image, We just asked about stream processes and asked for a little explanation then we can build an article or other resource that helps the brand in all its official channels.
4- Email Generators:
Chat GPT can be used to generate personalized email marketing campaigns that are tailored to the recipient's interests and preferences. Tools like Phrasee and Persado use natural language processing and machine learning algorithms to generate subject lines, email copy, and even call-to-action buttons that are more likely to resonate with the recipient. This approach can increase the effectiveness of email campaigns and drive engagement and sales.
5- Programming: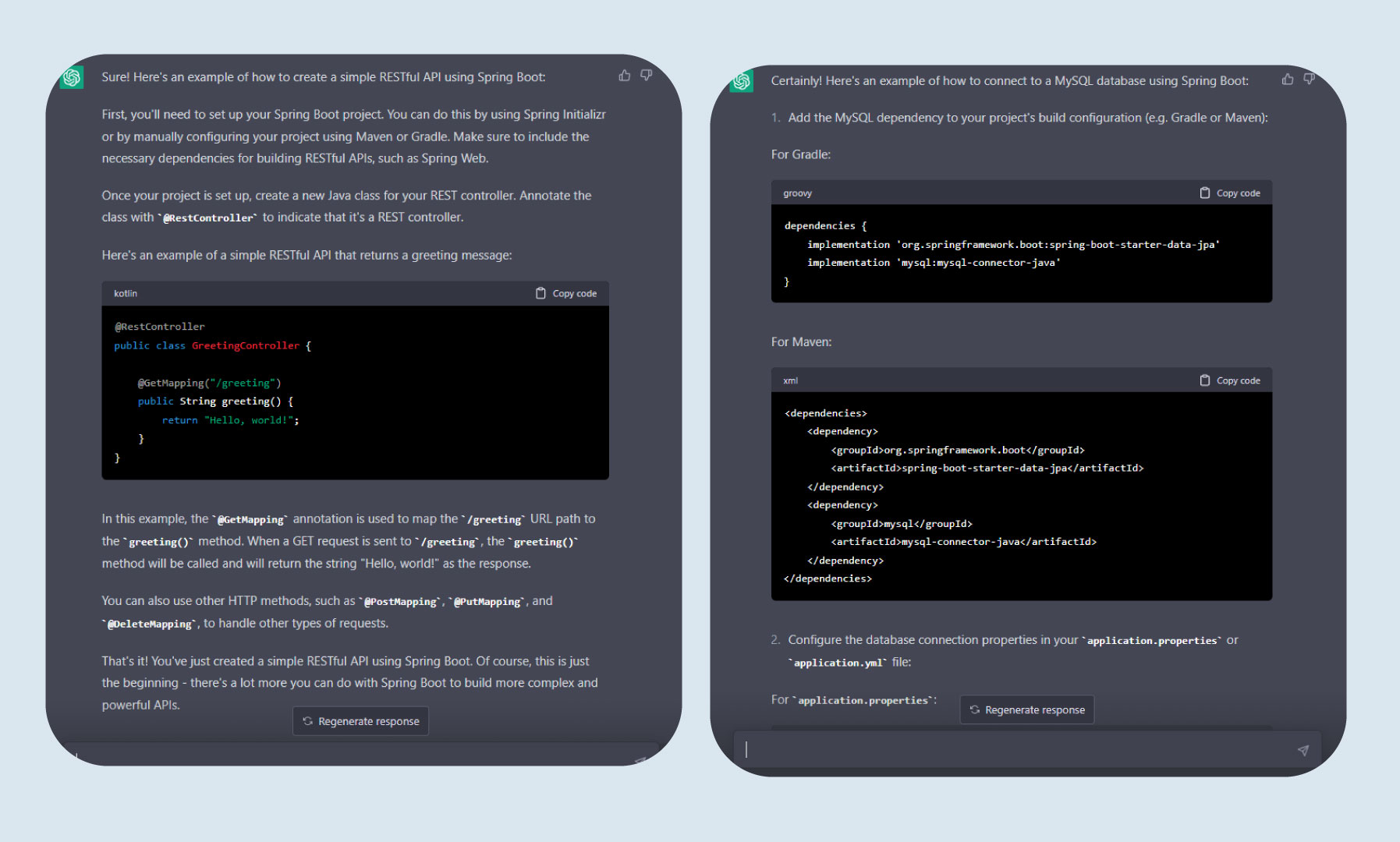 Chat GPT can be used to assist with programming tasks, such as code completion, debugging, and even code generation. Tools like Kite and Codota can provide suggestions for code completion, helping developers write code more efficiently and with fewer errors.
As you see in the image above this section, we just asked Chat GPT to give us an example of API rest with Spring Boot, and then we already have an initial code to start working on that or apply any changes the code could need based on the client's requirements.

However, remember this is only an example of how to ask Chat GPT to make a code for working on it; nevertheless, if you want to ask them specialized questions or tasks, you can do it just keep in mind to be specific about the requirements, details of the code, and the code language you want to use.