At Uassist.ME, we put the needs of our clients first! We provide extraordinary results for extraordinary customers!
We are thrilled to announce that Clutch has named Uassist.ME a top B2B company in Florida in the business services category! It's an honor to be listed among the leading back office companies on Clutch.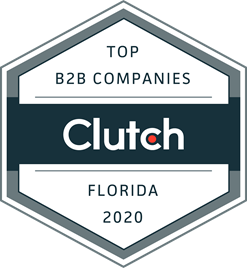 Clutch is a B2B market research firm based in Washington, DC. Their team of independent analysts conducts interviews with the former customers of B2B service providers listed on their site. This direct feedback ensures that all of their ratings and rankings are fair and transparent.
We are thankful for all of our wonderful clients, especially those that took the time to leave us a review on Clutch. Here's what they had to say about working with us!We can also be found on the Manifest, Clutch's sister site. The Manifest features company shortlists, business survey data, and how-to guides. We are excited to be listed as a top call center company in Miami on the Manifest!
"Uassist.ME has very fast turnaround times, usually within 24 hours. They keep a very detailed record of the time spent on tasks, which I feel is financially efficient. Having worked together so long, they know our brand and our clients." – Owner, Restaurant
Both this award and our 4.6-star rating on Clutch were made possible by all of you!

At UassistME we allow our clients to focus on what they do best by providing non-core business process solutions that are flexible, customized and cost-effective. Our expertise include e-commerce solutions, lead generation, digital marketing solutions and real estate solutions. To learn more about our past work, read the reviews on our Clutch profile. Ready to get started on your next project? Contact us.