So you've decided to improve your productivity and delegate tasks to a virtual assistant. Congrats to you! Done right, this can be one of the greatest life hacks you've ever pursued.
One of the most important pieces of being successful at virtual delegation is determining which types of work you should delegate. At a high-level there are five things you should keep in mind when choosing tasks to delegate to a virtual assistant.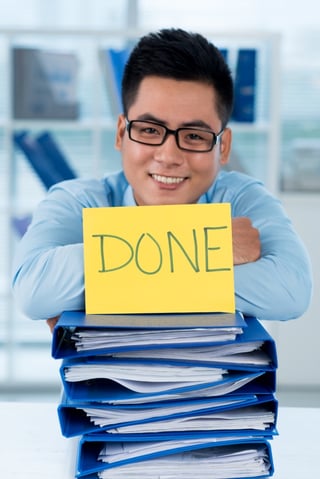 Don't delegate tasks that require physical presence. Seems obvious right! If you're working with a virtual assistant, they will not be on-location while completing tasks so stick with tasks that can be completed on a computer.


Don't delegate tasks that only you can complete. Delegating tasks which require your specific attention or knowledge may lead to lower quality work or negatively impact your business. Look at your work and pick out what part doesn't need your attention, let your VA deal with that part then take over where your input is needed.


Do consider deadlines. In many cases, your virtual assistant will be working a set amount of hours per week. Work with your assistant ahead of time to set reasonable expectations about how long a task should take and ask them to check in with you if it's taking longer than expected.


Do assign tasks that fit your virtual assistant's skill set. Just like you, your virtual assistant will be better at and enjoy certain tasks more. Delegating tasks that fit his or her skillset will produce higher quality work. Also, make sure you have a general idea of your task needs when you're signing up so the matcher can help pair you with the best assistant based on your needs.


Do delegate tasks that are straightforward.

Tasks that are overly complicated and hard to explain generally take additional learning time and delegating. These could impact time-to-completion. Either spend time upfront onboarding your assistant so they can help with more complex tasks long-term, or stick with tasks that are easy to explain clearly upfront.
Seems pretty simple, right? Here are some specific and tangible ideas to get you started:
Social media maintenance - updating, posting, and responding to comments on your social media accounts.


Bookkeeping - completing accounting tasks like billing and collection.

Data entry - entering data manually to different systems like CRMs or marketing tools.

Calendar & appointment scheduling - setting up appointments and travel arrangements on your behalf.

Transcriptions or translations - producing text documents from audio files or translating documents.

Real estate assistance services - posting real estate listings or scheduling showings with clients.

Answering services - taking messages from phone calls while you are unavailable.

Research projects - need to know how to change your license, or how to become a LinkedIn influencer? Your assistant can find out for you.
Virtual assistants are highly skilled and can often handle these tasks as well as much more. Make sure you take time to get to know your virtual assistant and what he or she is skilled at and make a list of projects best-suited to those skills. Often times you will be able to move both small tasks off your plate (like some mentioned above), and larger tasks (like design or website maintenance) in order to maximize productivity.
Uassist.ME virtual assistants can handle all of the above tasks and more. Each dedicated virtual assistant is highly skilled in either clerical or specialized duties. If you're curious about improving your productivity and taking work off your plate by delegating work to a virtual assistant, please request a consultation.