Calendar management is not always about filling in appointments or keeping track of overlaps, as most of us presume. Calendar management is a lot more complex, owing to the flood of information a working person has to handle. From emails and texts to meetings, tweets, and conference calls, there's a lot to consider.
If one does not manage their calendar smartly, it will soon become overwhelming and stressful to tackle correspondences and appointments. Therefore, it is necessary to learn a few tips and tricks to keep your calendar sorted and functioning smoothly.
Managing a calendar efficiently is an art in itself and nearly a full-time job. It requires regular care and maintenance just like all jobs do. For this purpose, we designed a guide of five ways to keep your calendar management on point.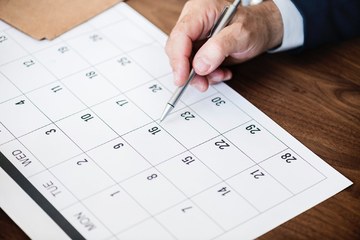 1.
Schedule Precisely
When we plan our meetings, some of us tend to make the mistake of scheduling each for a set length of time. However, there is great merit in giving each meeting due consideration. Some meetings require a longer time, while others take lesser. If we plan carefully and schedule each meeting according to the precise time it requires, we will end up saving critical time with each appointment on our calendar.
For example, if you have planned a phone meeting on the Wednesday of the following week for 45 minutes, but if you plan wisely and know you can cover the task in just 20 minutes, then set the time accordingly in your calendar. You could use the extra time to catch up on the other correspondence, to organize notes or even take a short break. Every minute is precious for a working individual.
2.
Use a Designated Meeting Platform
Organizing meetings requires a lot of precious time from our busy days. If your work demands you to schedule new meetings with colleagues or clients constantly, you should think about switching to automated platforms to set up meetings, such as Calendly.
Tools such as Calendly and others allow you to show your availability by simply sending a link to all your meeting partners. The partners, in turn, can access the link, go through your free slots, and select one that suits their schedules as well. This is one of the easiest and most hassle-free ways of setting up meetings.
3.
Make Space for Transitional Gaps
When we get down to our calendar management, we tend to schedule meetings and tasks back to back, often without realizing it. We might find it praiseworthy of how we are packing so much into such a little time span as the day affords. In actuality, however, we are only paving the path for stress and fatigue to set into our routine. Avoid the need to do this and allow space from transitional gaps between tasks, meetings, and projects.
It is necessary to allow yourself some breathing space in your calendar, so a transitional break every here and there in the calendar, in between meetings and projects, is a treat you deserve to give yourself.
Life is full of surprises, both good and bad. We must thus leave sufficient room in our calendars to deal with unexpected commitments, answer urgent emails, and look into sudden turnovers in ongoing projects and such other details. If we do not make such allowances when managing our calendar, we will always find ourselves lagging behind our original schedules due to the absence of gaps.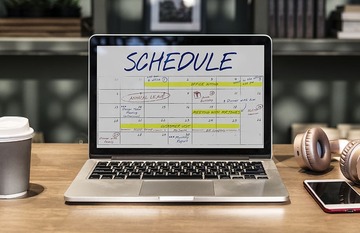 4.
Planning Requires Planning
This may sound odd, but it sure is a fact that you need time for efficient planning in your calendar. Planning requires a lot of detailing, precision, accuracy, and punctuality. You cannot just plan your schedule in your calendar in a haywire manner.
In order to save yourself from future headaches and muddling your way through, you should first set aside time to plan how you will go about your calendar scheduling. If you follow a weekly calendar, for example, sit at the beginning of the end of each working week to map out the details concerning your schedule. Leave gaps in places where you are uncertain about an appointment or task or simply leave a day unfilled to make required adjustments.
It would be a good idea to hire a virtual assistant to help plan your calendar management.
5.
Schedule with Doodle
Many people around the world invest a huge chunk of their valuable time in carrying out text or email threads with people, all in attempts to coordinate with each other's schedules and make time for a project or meeting. If you are one of those, you will admit what a waste of precious time this practice is.
It is wise at this point to turn to tools that aid in calendar management like a pro. Doodle is one of them, which allows you to select a range of dates and forward it to people concerned. Each party can select a date suitable for them and once everyone has doodled, all you have to do is pick the date the majority voted upon. So convenient!
Final Thoughts
One thing we can all agree unanimously upon is that with the passage of time, work pressure has mounted up to inhumane degrees. It is often difficult to manage our calendars smoothly, without getting flustered for time. Thanks to tools like Trello, Fantastical, Google Calendar, and CloudCal, organizing, managing, and automating certain activities on our calendars has become as easy and quick as can be. For calendar management feasibility, it is also a great idea to hire a virtual assistant. This way, you free up much of your valuable time while your virtual assistant takes care of all the calendar details for you.