2020 is already here. If you have always been laidback in catching up with business trends, now is when you can up your game. The only way to stay in the business game these days is to stay ahead of it. If you want to reap your business benefits tomorrow, you have to invest early in the future to ensure your rewards. Here are seven small and medium business trends of 2020 to adopt:
Whether you are a small business owner or a veteran, overhead business costs are always a big challenge to keep up with. However, we owe it big time to the developments in technology today that immensely help businesses of all sizes to cut down on major costs. By hiring a remote workforce, you can cut back on a lot of office space expenses as you won't need any physical office to accommodate your staff. You will keep away from the cost of the rental fee, electricity bill, food expenses, construction and maintenance costs, and other miscellaneous expenses. Hiring remote means your employees work from their respective homes and transfer the work to you via technology.
Remote workforce benefits not only the owner but also the employees themselves. They are free from the expenses incurred when commuting to work or paying for gas. The employees have the advantage of working from the comfort of their own homes and choosing schedules that best suit them. So for both parties in a remote workforce situation, the situation is extremely advantageous.
Remote working has become an instant and an ideal solution for most small and medium-sized businesses looking for growth. Infrastructure and space constraints are no longer a problem, thanks to remote working. Thus, a 9 to 5 traditional worker cooped up in a tiny cubicle is now a thing of the past. More and more people are converting to the remote employee regime with smartphones and laptops, team messaging, and video conferencing. Technology has given free rein to remote working and rightfully so. As a result, we can see how a growing number of people are working and preferring to work remote these days.
The trend of remote working is so fast surging in the business world today that we can already see multiple small companies allowing their employees to work remotely and on alternate days in a week. With this trend, small businesses also can grow faster than ever as they can easily help themselves to best talents around the globe.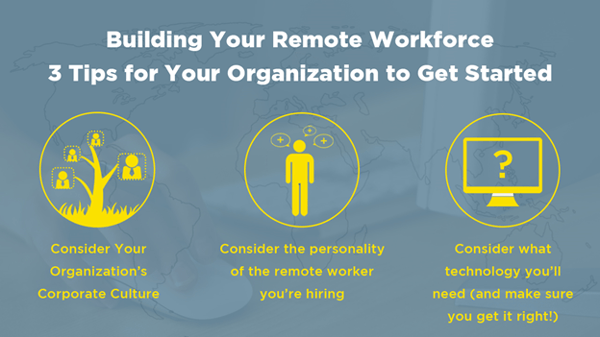 Virtual assistants can provide various services that your business requires. From scheduling appointments, performing digital marketing tasks to managing your events, and personal errands, they do it all for you. But what the business trends for 2020 tell us is that hiring virtual team assistants with different skillsets is what your business needs in comparison to have just a single assistant. The reason you see is that a single assistant can only focus on the more pressing yet mundane tasks of your business that add no value to the company but cannot be neglected at the same time. In such a situation, what happens to the growth strategies and the expansion of your business? The point here is that by hiring a team of virtual assistants, you bring in more skills that will boost your business than one person can do. You really cannot expect a single assistant to manage your calendars, schedule appointments, prepare the database, and also play an active role in spearheading strategies of growth for your business.
For enhancing your business expansion, you need marketing experts, social media experts, finance experts, and the list is endless. By hiring a team for your business, you bring in verified experts on board in no time at all, save up on training time and get more work done than a single assistant could possibly do for you. You see, if you allow an individual to focus singularly on the task you have hired them for as per their area of expertise, they will do the work faster for you than someone who has to juggle your multiple demands. It is a win-win business trend for all.
When your company grows, you need to broaden and improve your customer service to keep your clients happy and content with the services you provide them. If your customer service fails to be on point, you will lose valued clients, and your business will suffer consequentially.
Think of it in these terms; your customer is an individual just like you; you need to give them the kind of personalized customer care you would want for yourself when the need arises. Good customer service keeps your needs as the priority, remembers your preferences, and caters to you in exactly the way you desire.
One misconception that people illusion themselves with is
Hat virtual assistants can only schedule appointments and answer calls for you. The reality is that from paralegal services to project management and everything in between, virtual assistants can offer support with just about everything. Virtual assistants of today are professionals in providing you with a resource that is profitable, knowledgeable, and experienced. If you have a diverse customer service requirement, you must hire a virtual assistant who can tackle those needs for you. If they can manage to win your clients on your behalf, you will have a solid clientele for your business, which secures the growth of your company. If your clients love you, your company will thrive all the more. If you fall short in keeping your clients happy, you won't be able to last long in the business.
The human world is currently experiencing a cognitive age, a revolution applied by technology to the business world. We are living in the time when humanlike reasoning is imitated by tech solutions to process information; to resolve our problems, both business and otherworldly and, in essence, have become integral to the prosperity of the business community. This, is very simple words, is called artificial intelligence. Since this is the age of constant revolution, if you want your company and business to flourish, you have to incorporate digital media trends into your strategies. This is the essential key to succeed from your competitors and to meet the new needs of your customers.
The year 2020 is going to see more contributions from artificial intelligence. It has become an irresistible component already for most brands and will continue to overtake more business giants by 2020, to implement successful strategies, and to boost the performance of the corporate house. According to recent research, we already know that 47 percent of the digitally advanced organizations have already incorporated a defined artificial intelligence plan in their business setup. From 2020 onwards, there will be growth by $7.3 billion of artificial intelligence spending globally. This, if nothing else, is reason enough to adapt to the artificial intelligence trend for your business quickly.
5.
Data Entry
One most important factor for any company to succeed is the accuracy of the data entry. If your data is correct, it gives you a firm ground to plan ahead with the information disseminated, to determine your company's goals, and to develop strategies to rectify the shortcomings. If your database is incorrect and erroneous, your conclusions are inaccurate and skewed, and ultimately, your company suffers. It is, therefore, imperative that you have your company's data entered on a revolving basis. If you find yourself short of time to perform this task, you would be wise to hire a virtual assistant to do it for you. Neglecting data entry could be one of the worst decisions you would ever make for your business.
If your initial information is incorrectly entered, your company will be at risk of double entrees, and your burden will only double. In such an occurrence, you would have to manually purge and scour your erroneous and outdated information so that your readings are correct in the end. If you allow any incorrect information to accumulate in your company's database, it will definitely affect the overall value. Any outdated information such as old appraisals, past rental notices overdue, etc., will make your company appear less profitable than it is. Avoid such a misfortune and strive to keep your records as accurate as you possibly can by having them updated on a basis. You will only increase your company's value by religiously following this business trend. Learn more about the importance of data entry.
6.
Outsourcing
Small and medium businesses are benefiting immensely but outsourcing administrative and marketing tasks. There are plentiful advantageous reasons behind this, but primarily, outsourcing tasks make it possible for companies to save money big time. Handling administrative and marketing tasks in the house is not a wise decision usually. If you hire untrained and inexperienced individuals in-house to perform these tasks for you or take them upon yourself even though you have no time for it, you put your company at great risk of losses and incurring more expenses.
For this very reason, we have seen multiples medium and small-sized companies wisely outsourcing administration, marketing, and HR tasks to professionals who save plenty of valuable time and money for them. The number of self-employed service providers is increasing continuously in this industry. This gives you an endless variety of assistance to choose from. Some work on a contractual basis while others work by the hour, so business owners have the advantage of selecting a setup that best suits their business needs.
Small business owners get to free their schedules by outsourcing and can then use their energy to generate and develop more ideas to draw profits. It also eases the burden when business owners take it upon themselves to perform tasks they have no experience and expertise in. By hiring trained professionals who possess the skill set required to perform the tasks at hand, business owners get accuracy, and faultless work is done, which is more productive for the company. If you want to learn more on how outsourcing business services can give you an edge, check out this blog entry.
7.
Nearshoring
Nearshoring means outsourcing your projects to assistants or firms that are close to you. It could be another region or country but closer geographically. This is one more trend that we have already seen businesses adopting and will see more of it uprising in the coming business year 2020. With nearshoring, the greatest advantages that company owners reap are the same time zones, barely existing cultural differences, no language barriers, cost efficiency, and proximity.
With nearshoring, you and your assistant are not required to work nightshifts or overtime. It is easier to synchronize your meetings because you both live under the same time zone. This works as a great advantage once the work develops a routine, and work remains well organized. There are also very few works and cultural differences that matter once you become team members. We often neglect or overlook things such as unity and understanding when it comes to working relationships. In reality, these have a great impact on the work performed. Belonging to similar cultures and following similar work ethics makes it easier to form a team and work with more understanding and unison.
Since nearshoring places you and your assistant nearby, it makes it easier to have face-to-face meetings and less expensive. Such an advantage increases productivity and collaboration. Furthermore, proximity makes it easier to tackle urgent business problems that may require the attention of both the owner and the assistant. With time zone differences, it is difficult for both members to communicate effectively, but nearshoring eliminates this problem.
In comparison to offshoring, nearshoring is the better option. With offshoring, you are more prone to language barriers unless you manage to find someone a professional who can fluently converse in your native language. You and your partner or assistant will have to make a lot more adjustments with reference to work habits and cultural differences. This may take you both a long time, which will consequentially cause a lapse in work or the business to suffer for a while. Adjustments are never as easy as they seem to be. Nearshoring eliminates all these problems for you and saves you from the expense of frequently traveling to meet your offshoring partners.