What would you do with an extra 5 hours in your work week? Studies show that the average worker spends about 4.3 hours a week organizing and trying to find things. With t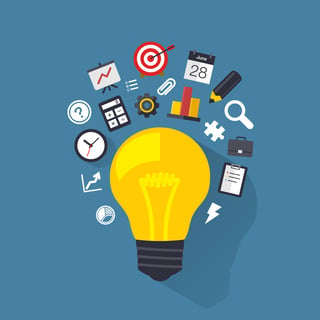 hat time back, chances are you would spend more time on company-driving tasks and could launch your business into even more success. Sounds great, but earning back 5 hours of time isn't easy unless you have someone to take on that organization and admin aspect, like a virtual assistant.
We already know that using a virtual assistant saves you time and makes you happier. You know you can delegate tasks to your virtual assistant, but how exactly do they increase your productivity? How do you really get more done by using a virtual assistant?
Virtual assistants increase your productivity by improving your efficiency. Not only will you get more done, but the work you get done will be better quality. Here's how...
#1 - Gives Projects Depth With Background Research
Virtual assistants can spend more time on background research, giving you more time for analysis. Because they can spend more time than you could doing research, virtual assistants will provide more in-depth and quality research. Good research takes time, and your assistant will have more time to devote to cultivating quality research than you could.
#2 - Generates Blog Ideas With Social Media Scanning
Your virtual assistant can scan social media to give you ideas for future blog posts.
They can look at your company's social media, your competitors, and general industry to see what people are talking and asking about. With this knowledge in hand, you can have more powerful brainstorming sessions and come up with ideas that your customers (and potential customers) want to see!
#3 - Gives You Time To Think By Taking On Essential Tasks
You'll have more time for business-building tasks if your virtual assistant takes care of admin work. Even though sending emails and scheduling meetings are absolutely necessary to keep a business running, they take up time that you could be spending on expanding your business. You become more productive when you're focused on the big picture rather than the small details.
#4 - Keeps You Current By Following Current Events
Virtual assistants can keep you ahead of the curve by following current events. This is something that usually goes overlooked when you have a lot to do, but it is essential for making sure you're generating products and content your industry wants and needs. Your virtual assistant can scan news websites, other media and competitive sources for external articles that describe what is going on in the industry and create a single document to keep you informed. Additionally, you can use these external articles in your social media strategy - referencing external links in your own social media is a good way to get recognized!
#5 - Up Your Customer Success Game By Classifying Feedback
With your virtual assistant analyzing your social media streams and email they can pin down customer complaints, feedback, and recommendations. Have them classify it by category so you can see where the problem areas and room for improvement are in your company. You can dictate your company's next steps by analyzing this research to see what things you need to improve and what you're doing well.
#6 - Broadens Your Capabilities By Countering Weak Areas
A virtual assistant who is knowledgeable in an area you're weak in makes your business stronger. You can hire a virtual assistant for virtually anything - accounting, market research, transcription services, recruitment - the list goes on. By letting the assistant do what they do best, so you can do what you do best, you're working smarter. A job poorly done is just like a job not done at all, and if you can't do it right, you're better off delegating it to someone else who can and would enjoy it.
#7 - Improves Brand Aesthetic By Leading Design Efforts
Give your work a more professional aesthetic by letting a virtual assistant take care of the design. Even if you make your own presentations or write your own blog posts, chances are you aren't a design expert. A virtual assistant can take the time to streamline and edit any front-facing document which will have a more positive impact on your clients.
By delegating tasks to the virtual assistant, you can spend more time on the important, company-driving tasks. It's common knowledge that the quality of your work increases if you have more time to spend on it, so if both you and your assistant have more time to do what you are both best at, who knows what you could accomplish! So, what would you delegate to your virtual assistant to make your company more productive?
Want to learn more about how a virtual assistant can make you more productive and your company more efficient? Click below to chat with us!