If you have a business that's mostly handled over the Internet (selling services or products), then you know how important communication is for leading a successful company.
You'll find a number of tools on the market you can use to keep in touch with your clients and team members. Some are better for teaching, while others provide alternate voice/video conference options.
So whatever your needs are for remote communications, you'll find the following tools helpful. Let's take a quick look at the leading communication tools you need for business.
Skype is a popular video calling software. It allows users all around the world to communicate using a microphone and a webcam. You can also add more than one person to your Skype session and talk to them.
Skype also allows you to chat and exchange files between users. Plus, Skype can be used from smartphones (as long as you have data or a Wi-Fi connection).
What makes Skype stand out is their paid plan. By paying at least $10 monthly, you can make international calls to landlines or cellphones all around the world.
You can't deny it's a lot cheaper than most phone company plans.
A lot of business owners use Skype for hosting virtual meetings with team members across the nation (or world). And then others use it to interview prospective employees.
It's also not a bad idea to use this as a replacement for your traditional business line since it allows you to make national and international calls.
OnSync makes talking easier than ever – particularly while presenting a product or service. OnSync interface is Flash-based, which allows different features to be added while in a conference call.
For example, you can pull up a whiteboard and start drawing graphics in real time. It also allows you to share different documents by just dragging and dropping them on your screen.
Then it even records your calls if you want to, which can come in handy for training purposes or simply to recap (or transcribe) what was said. Their services start from $29 monthly for 5 concurrent users.
If you're in the business of selling products or services to other businesses, then you'll find this tool handy. You can use it to host meetings with prospects and clients to demonstrate your new products and services.
The same can be done if you're looking to capture the interest of investors. Use OnSync as an initial form of contact to generate enough interest to get them to set an in-person meeting.
SightSpeed offers the usual multi-party conferencing, file sharing, and chatting capability. You also get the option to record a Video and Voice Recording in case you're not able to take the video call.
They also offer a video mail service to ensure you won't miss any calls or conferences. And it's important to note that the maximum simultaneous participants on SightSpeed is 9.
Just be advised, that SightSpeed does not offer any smartphone compatibility.
Anyhow, you'll find this tool to be helpful in holding virtual conferences with your team. It's great for collaborating with one another on a project, thanks to its file sharing features.
Having this face-to-face alternative is excellent for building up team morale and connectivity. Then when you're not doing face time, team members can communicate using the chat feature.
GoToMeeting specializes in Webinars and screen sharing. It's quite simple to use – the host just provides the participant with a code, and the program will trigger the session immediately.
Also, unlike other software, sharing screens won´t make your connection lag, nor will it lower your image resolution.
Their GoToTraining feature, will also program your schedules, and create your invitation and registration. While working on registering people online, you can even include registration questions, which will help you to better rate or understand the people you'll be interacting with!
You'll find businesses using this to both interview and train employee candidates. It's a great tool for sending invites to potential employees and asking them questions upon registration.
This way, you have something to go over when the interview first starts, rather than jumping right into the work-related questions. Hiring workers is a lot easier when you have a better understanding of who the applicants are outside of work.
eBuddy offers you the possibility to chat online using your computer or smartphone. What makes this service noteworthy is its versatility.
You can use your Gmail, Facebook, or any other account with chat features (it supports most of the popular chatting systems nowadays).
If you have employees to communicate with and keep track of, then you'll find the location sharing and discovery feature attractive. For example, if you have a fleet of drivers who you need to keep in touch with throughout the day.
But there are other ways businesses can make use of eBuddy. With its group chat feature, you can have quick meetings with your team while on the go.
Then unlike MSN Messenger, you won't have to download any software to use it. You just log in online and begin using it.
Here's a communication tool a lot of the younger businesses are using and it does everything but make workers slack. In fact, it's a tool designed to improve productivity for team members.
Businesses that rely on teams working together to complete goals and projects will find this tool beneficial. It comes with a variety of features that make communication and collaboration simple, such as the instant messenger tool.
Those who are invited to a team or group on Slack will be notified of new messages and uploads of files/documents from other team members. It offers a quicker pace of working together compared to other platforms like Basecamp and Asana.
Then there are the app integrations for tools like Zoom, Box, Jira, Google Drive, Trello, Asana, Salesforce, Dropbox, and Polly.
It comes with different plans that start at $0. The Free plan comes with up to 10K messages, up to 10 apps and integrations, and 1-10 video calls.
Then there's the Standard plan at $6.67/mo (annually) or $8/mo per user. And this comes with unlimited search, apps, group calls and screen sharing, and guest accounts and shared channels.
Last, the Plus plan is $12.50/mo (annually) or $15/mo per user. The additional features in this plan include a 99.99% uptime guarantee, user provisioning and de-provisioning, corporate exports of all messages, and SAML-based single sign-on (SSO) and more.
The most popular features in Slack include the custom user groups for different teams and departments and group video calls with up to 15 people.
This offers businesses with the tools to truly manage their teams and projects effectively.
When it comes time to train your employees or to offer support to current employees, TeamViewer is the tool to use. Imagine a situation where you have to help a team member work their way through a new application recently implemented by the company.
If they're working remotely in another state or country, then this becomes cumbersome. But with TeamViewer, you're able to offer help right from your desk.
This is possible because of the tool's screen sharing capabilities. With this, you can instantly access their computer and operate it as if it were your own.
The other person will be able to see everything you're doing, making it an ideal opportunity for training them to do the process themselves.
Another way businesses can use Teamviewer is for IT support. If anyone runs into an issue in another department, then IT can come to the rescue from wherever they are.
And what's even better is that you don't have to download any clunky software. You just log in through the website anytime to begin online collaboration. Some businesses use it to host meetings with clients or team members and to perform presentations.
It starts at $49/mo for a single user, which comes with unlimited endpoints (meaning you can use it however many times you need to). You're only able to host one session at a time.
Then there's the multi-user plan, which also comes with one session and unlimited endpoints. However, it has multiple seats/users and costs $99/mo. If you're looking for something for teams, then the team plan is worth looking into.
It comes with multiple seats and allows you to host up to three sessions at once. It too has unlimited endpoints and costs $199/mo. The plans are all billed annually.
Now, if you're on the market for another web conferencing tool outside of Skype, then consider Zoho Meeting. This tool is perfect for hosting presentations, webinars, meetings, polls, Q&A sessions, and more.
Whether you're looking to connect with your team members, clients, or prospects, this will make it possible. Collaborating with your team is made simple using its screen sharing, audio, video, moderator tools, and other features.
And what's better is that you can record your webinars to store on the cloud or even publish to your site or YouTube channel. Then if you want to see how great your webinars are performing, you can look at the webinar analytics.
You can easily download this to view the number of attendees, Q&As, registrants, poll participation, and more. Then you can use the data to identify leads to follow up with.
For team collaborations, you can schedule meetings and send out invitations to ensure everyone attends. Connecting is instant so emergency meetings are efficient.
If you're using Zoho Meeting for connecting with clients, then you can use your CRM account to manage leads and contacts.
The cost for this is also on the affordable side for even small business owners. There are five plans to choose from, all of which are billed monthly or annually.
For the monthly Meeting plan, you pay $10/mo per host, which allows 100 participants. Then you're able to store up to 10 recordings.
Then for the webinar packages, you can choose between:
$19/mo for 25 attendees

$29/mo for 50 attendees

$39/mo for 100 attendees

$79/mo for 250 attendees
Some of the features included in the meeting plan are video conferencing, meeting recording, email reminders, lock meeting, change presenters, chat, VoIP, add to a calendar, RSVP scheduling and more.
Then with the webinar plans, you get features like VoIP, add co-organizers, in-depth analytics, screen/application sharing, webcam sharing, customized registration form, polling, and more.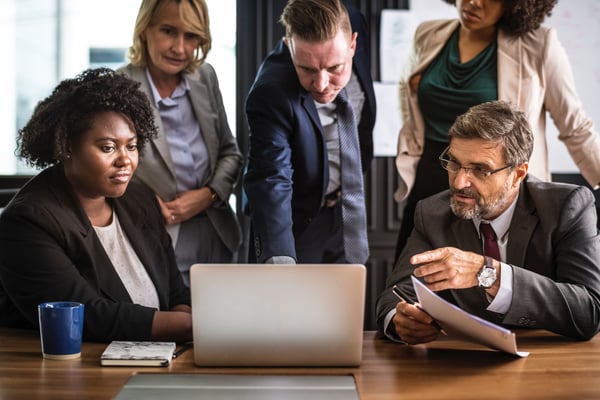 Finding the Right Communication Tools for Your Business
At the end of the day, it's all about finding the tools that work best in your organization. You may find you need more than one item on this list to meet the demands of your business.
The key is to write down the different ways you need to communicate with your team, clients, and the public. Then search for the tools that offer the features you need.
If you'd like to learn more about apps, social media, and enhancing productivity, then subscribe to the Uassist.ME blog!