If your workload is becoming too difficult to manage, it may be time you bring in some help. Delegating tasks ensures that you can still complete the same amount of work (or more) while maintaining quality and your work-life balance. Virtual assistants (VAs) are a great option for delegation because they're highly skilled and cost-effective.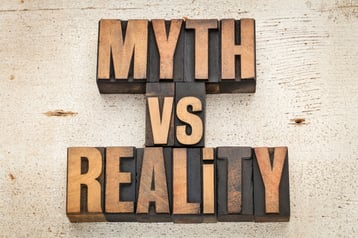 "But my brother's, friend's, aunt's, old colleague's, new boss used a virtual assistant one time three years ago and didn't love it."
Sound familiar? Many times people dismiss virtual assistant services before giving it due consideration because at some point, they've heard an unfounded myth. At Uassist.ME, we've heard all the myths, and we've decided it's time to debunk them:
"Hiring a virtual assistant is too expensive."
Look, we get it — every dollar counts, especially when you're a cash-strapped entrepreneur. But think about the value of your time. If you spend three extra hours every day on tasks which could be delegated, what does that equate to in dollars? Is it more than the $12-$13/hr it would cost to hire a virtual assistant to take those tasks off your plate? VAs also remain more cost-effective compared to in-person assistants or part-time employees, because they generally have lower hourly pay and require no overhead costs (like equipment).
"A virtual assistant won't complete their work remotely."
The question of how productive a remote worker can be has been hotly debated, but some studies have shown that remote workers can be up to 77% more productive while working off-site. Virtual assistants make their livings off being able to successfully work with people in different locations — it's in their best interest to complete the work that's delegated at high quality. Still not convinced? Some virtual assistant companies actually locate assistants in an office environment with supervisors, so you can be assured they won't be home watching TV on your dime.
"Virtual assistants aren't qualified at the skilled tasks I need completed."
Ok, so you need someone who can complete a variety of tasks and do them really well. Virtual assistants are highly skilled workers trained in all sorts of things. Typically, they are tested in multiple skills when they go through a hiring process and interviews with the company which employs them before becoming someone's assistant. That means if you have a need for a specific skill, you can gauge your potential VA's skillset in an interview process, exactly like you would for any other employee.
"I can do this better than anyone else."
We understand that you're deeply passionate about your work, but let's face it, there has to be something that you aren't as great at, don't enjoy, or is not a great use of your time. For example, if you love focusing on development or design, it could benefit you to delegate administrative tasks, like scheduling or bookkeeping, to a virtual assistant. That way you get to focus on the work you absolutely love to do and is core to your business.
"Training someone is too much work."
In order to be successful at working with a virtual assistant, it is recommended that you spend a bit of upfront time to onboard him or her to the work, tools, and processes that you work with. That being said, in the long-run, a worker who is onboarded properly can be 54% more productive than someone who wasn't. That is huge. Pro Tip: as you train your assistant, have them document the entire process so you won't need to do it again AND you can easily check for inefficiencies.
"I can't manage and collaborate with someone who isn't next to me."
Sure some people are stuck in their ways, but in today's environment, it's never been easier to work with someone remotely. You can find a piece of technology to assist with any sort of collaboration. Project management? Try Asana. Collaborating on documents? Google Docs. Communicating regularly? Slack lets you set up chats to reach someone quickly and video chat to stay personally connected.
"I can't think of anything to delegate."
As mentioned before, a good place to start delegating is with work that you may not be skilled at or that you don't love to do. Virtual assistants are qualified a variety of different tasks like administrative duties, research, data entry, social media management, and even design work or website projects. If you're looking for more inspiration, this article can help.
"I can't trust my assistant with my secure details."
It's natural to feel a bit unsure about sharing confidential information with another person, but top virtual assistant companies take this very seriously and should be happy to sign NDAs and accommodate your needs. Additionally, there are tools to make login sharing and personal information more secure, like LastPass or 1Password, so you know that your details will be safe.
A virtual assistant's role is to help make you more productive by sharing the workload and enabling high quality work in less time. They can be a huge asset for anyone who needs help gaining some time and work-life balance back. If you're ready to learn more about virtual assistant services, or if you still have some questions, please request a consultation. We're happy to help!