The benefits brought by BPO companies to business nowadays have caused the demand to exponentially grow. The fact that it improves a company's efficiency and flexibility entices business owners and managers to engage a BPO company for their needs. Looking at it, the demand has pushed the outsourcing industry as one of the fastest-growing markets globally.
Uassist.ME is a tried and tested business process outsourcing agency from Miami, Florida. Since its inception, our company has been a major force in the states' flourishing outsourcing sector. Our hard work, commitment, perseverance, and willingness have earned us respect and recognition from both national and international institutions.
The recent win that we have snatched is from Clutch, a Washington, DC.-based B2B reviews and ratings agency. We are thrilled to announce that Uassist.ME was hailed as the #1 Virtual Assistant Company in the world and a leading business process outsourcing firm.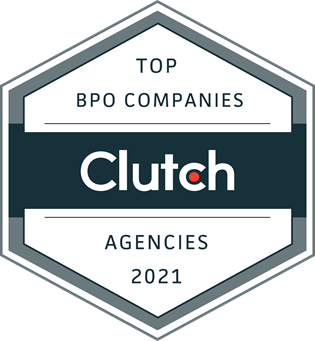 "Thank you for selecting Uassist.ME as one of Clutch's industry leaders. This wouldn't have been possible without the hard-work and commitment of our incredible teams."
— Alfredo Atanacio, Co-Founder of Uassist.ME
According to Clutch's latest press release report, Uassist.ME made it on the Leaders Matrix thanks to our ability to deliver and our clients' reviews.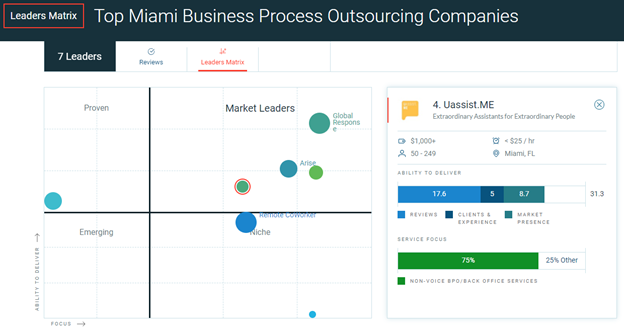 This prestigious recognition could not have come to reality if it weren't for our clients. We are absolutely thankful for the opportunities brought by their undying support and trust. We owe our success to them.
Our company would also like to thank our clients who have taken their time to leave us a review on Clutch. We are proud and glad to have our clients' feedback featured on our Clutch profile; their words serve as testimonials to our dedication.
"The level of talent that they have available is impressive. I don't think people realize how highly skilled outsourced teams can be. They're smart and reliable. I've never had anyone call in sick."
— Team Lead, CARROLL
"Uassist.ME has very fast turnaround times, usually within 24 hours. They keep a very detailed record of the time spent on tasks, which I feel is financially efficient. Having worked together so long, they know our brand and our clients."
— Owner, Pica Pica
Are you ready to reach a new level of productivity? Reach out to our team and let's work to create the best solution for your business needs.