Has it ever happened to you that you visited a website and then started seeing ads for that company's products everywhere on the internet? If so, you have tasted the power of contextual marketing. But...
What is contextual marketing and how can my company benefit from it too?
Every company wants to be there for customers, providing them with what they need when they need it.
By analyzing user data, including a person's search history and online behavior, companies can deliver targeted ads to customers who are more likely to be interested in their goods or services, and this strategy is what we call Contextual marketing.
Contextual marketing has become increasingly popular in recent years, as companies seek to provide more personalized and relevant experiences to their customers.
On the consumer side, tailored marketing campaigns can help a consumer find what they need while cutting out the time browsing on the internet. On the business side, contextual marketing can lead to increased conversion rates and higher ROI due to more effective targeting of relevant audiences.
Contextual marketing strategies are frequently visible across various channels, including advertisements, email campaigns, social media posts, and website content. Rather than a single format campaign type, it can be used across multiple channels, making it a versatile and effective way to reach customers.
Popular brands such as Amazon, Google, and Facebook have all integrated contextual marketing into their advertising strategies, resulting in more meaningful interactions and potentially greater customer loyalty.
Here are a few examples used in a contextual digital marketing campaign.
1. Email marketing campaigns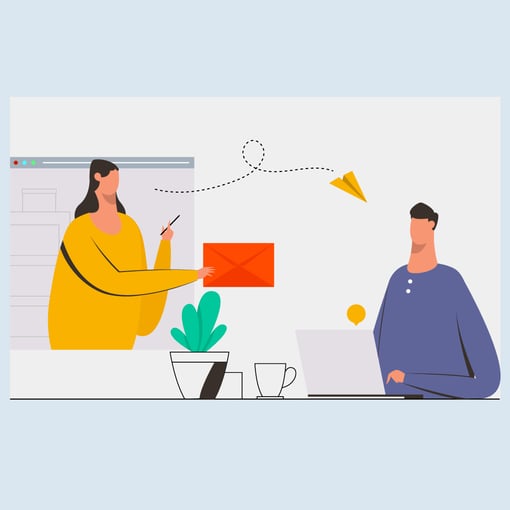 An e-commerce site sends an email campaign to clients who have previously purchased at the store and promotes a sale.
The data gathered by customers' previous actions is valuable for companies to offer their clients the option to revalue their decision to purchase from your business as well as keep themselves present in the consumer's minds as they get ready to make a purchase.
Every ecommerce site can take advantage of this tool by setting up an effective and compelling email marketing campaign by creating a workflow that triggers the email to be sent when a customer makes a purchase or takes other specific actions on their website.
According to SaleCycle's 2018 remarketing report, cart abandonment emails have a high click-through rate for every industry researched. Indicating a positive tendency between the number of people who saw your ad divided by the number of people who clicked on it.
Delivering the correct material to the right audience at the right time is essential to a successful marketing strategy. A successful email marketing campaign may help you contact a wider group of potential customers while their interest is still high.
2. Seasonal ads campaigns
A travel company displays ads for vacation packages to users who have recently searched for flight deals and hotel accommodations on their website.
Using Google Adsense's technology, travel agencies can connect with potential clients looking to plan a vacation.
Google's technology analyzes the text of each webpage to identify its primary subject and then matches it to your website using your specific keywords or subjects, language and area targeting, a visitor's recent browsing behaviour, and other variables which can open a door of possibilities to encourage prospects to finish their booking.
Travel agencies are then able to offer them a variety of prices, flexible departure dates, and accommodation choices to remove any remaining barriers holding them back from booking their trip.
This targeted approach is a prime example of how contextual marketing can increase the likelihood of conversion by providing relevant and personalized content to users based on their specific interests and actions.
You can read our blog: Marketing Strategy Ideas for B2B E-commerce, and be familiar with it.
3. Carrousel product showcase campaign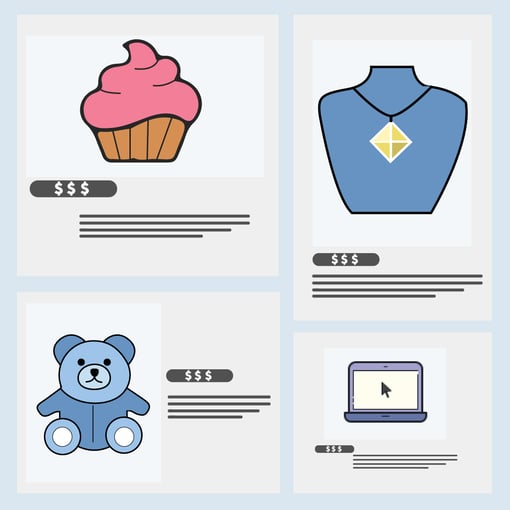 A fashion retailer shows a carousel of products showcasing their new fall collection bags to users who have searched for shoes.
By tailoring their ads to the interests and behaviours of their audience, the fashion retailer can increase engagement and sales. This type of retargeting campaign can help the fashion retailer not only increase sales but also build brand loyalty.
Also, the satisfaction of seeing products that match their previous shopping behaviour can lead to a higher customer lifetime value and increase the likelihood of repeat purchases and positive word-of-mouth recommendations to their friends and family.
By delivering personalized content to customers interested in specific products or collections, the retailer can create a more personalized shopping experience, leading to a stronger connection between the customer and the brand.
In general, contextual marketing is an effective tool for businesses to connect with potential clients through customized and relevant material based on their interests, activities, and behaviours.
Businesses may increase client engagement and optimize their advertising budgets by utilizing contextual marketing methods by producing customized content that appeals to their target market. Contextual marketing offers a novel strategy that may help companies stand out from the competition and establish deeper bonds with their clients.