Email management is perhaps one of the most time-consuming tasks for business owners. Every business owner or entrepreneur can admit to needing at least a basic level of support and help where their inbox or email management is concerned. Here is where the role of email/inbox management by a virtual assistant comes into play.
We are often overtaken by the temptation of simply deleting the piles of emails accumulated in our inbox and starting over, especially when we are a small business owner, working without an assistant or a secretary. When everything makes way into the same folder which is our inbox, it becomes super easy to rapidly lose control on our inbox management skills.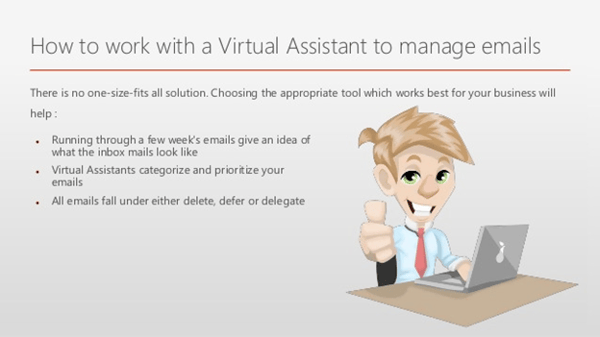 This could perhaps be attributed to the fact that the most popular medium of business dealing in today's world is through phone, chat, text or email. While it may be hard to believe, it is also the truth that an average person invests up to 4.1 hours daily catching up with their inbox.
This is especially more troublesome when a business owner returns from holidays and discover their inbox crammed with emails, sales, promotions etc. There are several spam mails which no one is interested in while most are important emails which cannot be ignored at any cost.
To solve this little dilemma, or let's just say, to help business owners tackle their mountain of emails, employing a virtual assistant must be seriously considered. If email or inbox management is delegated to a virtual assistant, it will free up around 4 plus hours of valuable time daily, which should be invested into building and expanding the business.
Look for virtual assistants who have years of experience of inbox management and trained to work as team with you. They will organize your inbox in a way that will be most beneficial to your business needs.
Thanks to the endless convenience provided by internet facilities, you can establish your virtual assistant with a company's email so that communication between you and your contacts and clients is made easy. Whether your goal is prompt email responsiveness or zero inbox hassle, virtual assistant is the ideal solution for you.
Email Management Services by Virtual Assistants
When it comes to hiring a virtual assistant for inbox/email management services, there are a number of services they can perform for you. Some of those services include: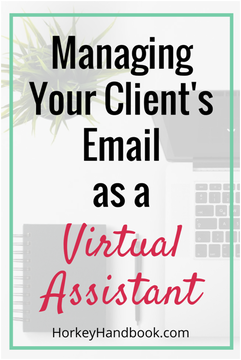 Keep your inbox sorted by efficiently unsubscribing you from all unwanted emails.

Proactively set up alerts, filters, rules and etc to cater to your needs and preferences.

Keeps your contacts list organized by regularly managing and updating it.

Sorts out and cleans up, deletes and archives old emails crowding your inbox.

If you are out of the office, your virtual assistant manages your auto-responder.

A virtual assistant also takes care of sending introductory mails to potential and new clients.

Actively responds to requests and invitations to meetings, arranges them and adds them to your calendar as a reminder.
Whether you have a startup business or a fully fledged one, every inbox requires a management system. It does not matter which industry a business owner belongs to and what level he/she works at, whether you receive 20 or 100 emails per day, if you aim to spend less time in your inbox and more time in your business priorities, then organization is the key.
Regardless of which system your company uses, a virtual assistant can improve your email productivity in a variety of ways and save your much precious time. Here are a few:
Stop Reading Your Email
A business owner usually wastes half of the time in opening emails and scanning them. Even if you merely open and read a part of it you've lost precious minutes by then. Most often the emails are not even as important as they appear to be at a glance.
You virtual assistant can tackle this problem by reading through and sorting your email so that you only have to see the ones that are important and related to your business. Those which are urgent and require a prompt action from you will be pointed out by your VA. Does that sound like magic?
More Responsiveness
You may have found yourself struggling with responding promptly to emails while at the same time trying to manage your time efficiently. Well, you can solve this problem right now by hiring a virtual assistant to do that or you.
Once you hire a VA, you can explain clearly which types of emails require a certain reply and which contacts of yours are the most important and should be promptly replied to. You can then design a template response for the various emails received which your virtual assistant can send without you worrying about it.
For example, if your business deals in special products, there may often be emails asking for guidance on how to use the products. Your virtual assistant can send a stock response and lift a huge burden off your shoulders.
Take Action
There are times when certain emails indicate a code of action, certain things that should be on your to do list. You can allow your virtual assistant to convert the email into a task with all the relevant details included, such as who is involved, due dates, links to spreadsheets, documents etc.
Final Thoughts:
Virtual assistants are well familiar with many systems for task management. Some of these include Asana, Wrike, Basecamp, Outlook, Evernote and etc. Virtual assistants are really a cost efficient way of taking on the responsibility of your email management. You can get yourself a basic plan for as cheap as $299 per month which is a 20 hours monthly plan. Really an ideal solution for home based business owners!