Virtual delegation is one of the single most important things you can do for your business to increase your productivity. There are a lot of moving parts that you have to take care of when getting your delegation program ready to ensure high-quality from start to finish, which is why virtual delegation systems sometimes have the reputation of being poor quality.
But that's not true.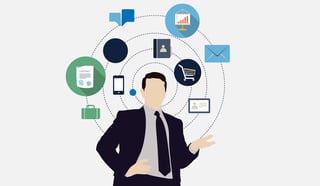 Virtual delegation does not equal low quality. If you're well-prepared, you can avoid many of the pitfalls that result in low-quality work and poor performance from virtual assistance. The good news is that all of these can be easily prevented with a few simple steps.
These are the most important plans to have in place when you're ready to delegate so that doing so doesn't decrease the quality of the work produced:
Have a plan.
Before you get started, the best way to ensure quality work is to know exactly what you need to have done. If you want to give other people clear, attainable goals, you need to have clear, attainable goals for yourself! Make sure that you've thought about and set clear objectives you need and standards for getting them done before you delegate the tasks to your virtual assistant. If you know what you need to get done and create a plan for getting it done, your virtual assistant will know just what to do. You'll be able to guarantee higher quality because there's no ambiguity in what you need.
Match responsibilities to strengths.
Gone are the days where virtual assistants were just project managers - you can hire a virtual assistant for just about anything! Match the tasks you need to get done to the skill set your virtual assistant has in order to get the most work done to higher standards. For example, if you need someone to take care of your finances, hire a virtual assistant who is well-versed in financial planning or has done finances for other companies in the past. If you hire virtual assistants according to their strengths, you're more likely to get their best work.
Know what you absolutely shouldn't delegate.
Sometimes, the issue in low-quality delegation lies in the fact that you've delegated something to a virtual assistant that should have never been delegated in the first place. There are some things you simply need to do on your own no matter how much you like or dislike them, and delegating these tasks can lead to more problems in the future. Such tasks include anything dealing with personal or sensitive information, such as disciplinary reports, using the virtual assistant to confront interpersonal conflict, and performance reviews or feedback.
Stay organized.
If you want to ensure quality performance, you need to make sure everything is organized from start to finish. While having a plan is a great place to start, you won't get far if that's the last you think about it. To ensure quality, make sure you keep the virtual assistant updated with periodic check-ins and answer any questions they may have. Give your assistant detailed notes or guidelines for what you need done (or better yet, talk with them about it and have them create the notes) for when you need it by. If you're organized and don't leave anything to chance, your virtual assistant can plan ahead and ensure they have enough time to do all the tasks they need to get done. When things aren't rushed, your virtual assistant can produce more quality work.
So there you have it - delegation doesn't mean you have to sacrifice quality, contrary to popular belief! If you're organized, have a plan, match skill sets to needed responsibilities, and don't delegate things you shouldn't, you'll have an effective task delegation system with your virtual assistant that is sure to bring you quality results!
Looking to get started delegating tasks but don't know where to start? Grab a time to talk with one of our delegation experts! Our virtual assistants are top-notch and ready to deliver quality work for your delegation needs. Click below to chat and see how we can help!