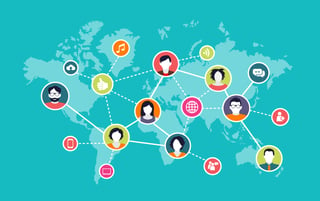 So you've found and hired your perfect virtual assistant. Congratulations! You're one step closer to doubled productivity and getting more done in your workplace. But now, you have to successfully manage your assistant to make sure things are getting done up to par and when they should be.
You don't have to micromanage a virtual assistant to make sure they get everything done properly. Here are 5 easy things you can do to successfully manage your virtual assistant and allow them to bring wonderful success to your company.
Communicate effectively.
Communication is key, especially when your virtual assistant isn't in your office. By setting boundaries for communication, you can ensure that you both will get the most out of the conversation when you're able to connect. Set a schedule for a weekly check-in, daily summary emails of work that has been completed that day, and individual task "comments" should they have questions about a certain task. Have your virtual assistant save questions for your weekly phone calls (unless they're time-sensitive). And if you feel so inclined, set up an instant message so you can keep in constant contact. Frequent, honest, and constructive feedback is crucial to maintaining a healthy and productive working relationship.
Be organized.
If you're not organized, it'll make it harder for your virtual assistant to be organized too! By implementing a few simple practices to help you both stay organized, you'll enable your virtual assistant to get more done. You'll also be able to see what they're working on, where they are at in a project and make sure it's as you have planned. First, and most importantly, set up a cloud service like Google Drive or Dropbox to keep all your files. Files that can be edited in real time (like Google Docs) allows for version control, and keeping files where they can be easily accessed by the whole team makes collaboration easier. You can use the cloud to track your virtual assistant's hours and activities, share calendars, and create to-do lists.
Define project scope clearly.
There is no such thing as being over prepared when it comes to managing a virtual assistant. Make sure you clearly outline what to do and when to do it, and give them as much direction as you would an in-person employee. A common misconception is that virtual assistants will just "know" how to do any task handed to them. This can be true, but only if they have proper preparation and direction. Keep their agenda of tasks full by planning out at least two days worth of tasks in your project tracking system (whether that's a list in Google Docs or an app like Asana). This frees up more time for you to continue working what you need to work on rather than trying to figure out what to hand off every single day.
Measure your progress.
You can't plan better for the future or measure your progress if you don't use some sort of metrics for tracking. Have your virtual assistant send you a summary email at the end of every day addressing their daily accomplishments, any questions they have or things they need help with, and if they have any suggestions for what they're doing. This will allow you to track how much work you have left to do, and you'll be able to see how much better your business functions with the help of a virtual assistant.
Do the prep work.
Allocate some time in the onboarding stage to get your virtual assistant familiar with your business, your way of working, and the tools you use. Allowing them time to get acquainted with your systems, process, and business will streamline their goals with yours and help prevent any misunderstandings. Spending time in the beginning to bring the up to speed and and do the prep work will save you time and issues in the long run. You'll be more productive and gain a more trusting relationship with your virtual assistant and have a healthier work relationship.

Virtual assistants can be a wonderful asset to your small business' team, but you'll really get the most bang for your buck if you can manage them successfully. Virtual assistants are also a key piece to building a successful virtual company. Check out our free eBook to learn more about how to create, manage, and get the most out of your virtual company.