Hiring a dedicated assistant can have a majorly positive impact in your life. Having someone to delegate work to can increase your productivity, give you time back to focus on what you're best at, and reestablish your work-life balance. (Plus you get the added prestige of telling people you have an assistant!)
Once you've made the decision to hire a dedicated assistant, you need to determine which option is best for your unique situation: a virtual personal assistant or an in-person personal assistant?
Evaluating in-person personal assistant services: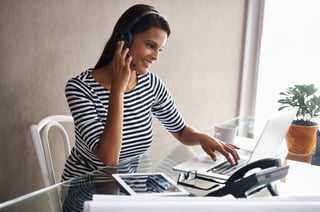 As you might have guessed, an in-person personal assistant is usually the better option when you need someone to complete work in person. This includes tasks like picking up dry cleaning, paper filing, organizing your office space, or even grocery shopping — anything where you need someone physically present.
Using a personal assistant can also be helpful if you are set in your ways and not comfortable collaborating online. Despite online collaboration tools like Skype, Asana, and Google Docs, managing a virtual team member, is not for everyone.
Where personal assistants can cause headaches is in added costs and workload items. For example, you may need to provide this person with office space, and equipment like laptops or phones. Additionally, if you hire this person directly or as a contractor, you will need to be able to handle payroll and tax work.
Evaluating virtual personal assistant services:
Virtual assistants can generally complete any work which can be done using a computer. This includes tasks like appointment scheduling, data entry, research projects, and in some cases even design or website work. The wide host of service that virtual assistants can handle usually makes them the better option for someone who is looking to delegate work.
Virtual assistant services can also tend to be a little cheaper; a personal assistant's median pay is about $14/hr whereas some virtual assistants can cost only $12-$13/hr. On top of the hourly savings, virtual assistants do not require you to purchase any equipment or incur any additional overhead costs, like office space.
Also, if you think you really need someone in person to pick up your dry cleaning, it's likely (if you live in a larger metropolitan area) that your virtual assistant can get that taken care of via TaskRabbit, Amazon Pantry, or any other on-demand services!
Making the choice:
Ultimately, the choice between hiring an in-person or a virtual assistant must be whichever will maximize your productivity for the price you're paying. For example, if you decide the area in which you need the most help is completing personal errands (like grocery shopping), you will need to hire a personal assistant who can be physically present. On the other hand, if you decide that most of the work you need to delegate can be done online and that you can handle managing someone remotely, virtual assistant services will likely provide the biggest productivity improvement due to the variety of skills and services provided.
If you're interested in learning more about what types of work you can delegate to a personal assistant and if it's the right choice for you, please request a consultation.