When having your team work remotely, it might feel like they're all too disperse and it's hard to get everyone's minds in one place. Don't despair, though! Getting all your high school friends together is way more difficult… No joke.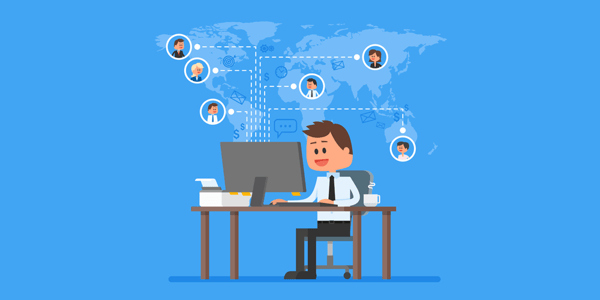 There's always a tool to make things easier, and managing work from home is no exception. The number one advice is to take advantage of technology. Aside from keeping regular standards as if everyone was working together in a physical office (for example, having a clear team scheme, goals, roles and such), regular checkups should be the rule.
Google, Teams, Skype, Zoom, or any other platform that allows video calling must be a priority to have the team signed in and in lockstep. This way, a regular checkup can be made to make sure everyone is on track and have all they need. Let's not kid ourselves: as a team leader or employer, you need to make sure everyone is rowing, and in the same direction. Building this sort of trust is important, and constant communication and reporting is usually the quickest route to get there.
If you still need to keep track of what everyone's doing and how much time they're actually investing in it, there are some tools like Time Doctor, Toggl, HubStaff or RescueTime that can track the time your team's been working.
That's why communication is key when managing a team from afar. Aside from just checking on their work, it's also important to check on how they've been feeling, especially if working from home isn't a regular practice in the company. Isolation can be cruel to some, and hearing or seeing another human face might bring their spirits up. Make sure that, as a Team Leader, you've made clear how to contact you in case they need something and be available for them at all times.

Next: Tips on How to Effectively Manage a Remote Team