It's time to look for a virtual assistant. But where do you go to look for one? If you're like most business owners, you're looking to free up your time and focus on more productive activities.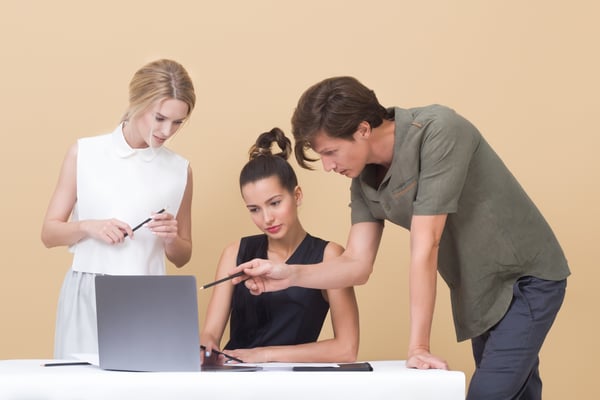 However, getting the help you need isn't always easy.
It requires careful research and in some cases, a lot of time to find the right one for you. But it doesn't have to be this way.
You just need to know what it is you're looking for and the places to find a VA with those talents. And that's exactly what we're going to help you with today.
First, let's take a look at some tips you can use to make hiring a virtual assistant easier.
Why Hire a Virtual Assistant
Maybe you're still on the border about hiring a virtual assistant. If so, then you may not see all of the benefits that come along with working with one.
Different businesses use virtual assistants for different reasons. For example, you'll find many using them because they're looking to free up their time.
Then there are others who struggle with organization. So they hire a virtual assistant who can help manage both their business and their life.
They'll manage your schedule, organize your files, and even take care of your emails and calls. It removes the tedious and mundane tasks out of your typical workday.
This allows you to focus on growing your business – whether it's conjuring up new ideas, meeting with prospective clients, or collaborating with business partners.
So What Should You Look for in a VA?
Unfortunately, not every virtual assistant will deliver the results you're looking for. You'll find that some are specialists in certain areas.
For instance, some VAs are great with organization and business communications. Others may specialize in writing and editing.
There are many different tasks you can hire a virtual assistant for. If you're not sure what it is you're looking for, then it's time to write down a list.
Start by looking at all of the tasks you don't like doing. For instance, this will consist of the things that take up too much of your time or that you simply hate doing yourself.
For some entrepreneurs, this may be managing your email inbox, taking calls, setting appointments, scheduling, and so on.
Then there are things you may not know how to do well. For example, writing business proposals, creating blog posts, and editing.
Once you're done writing your list, you can see what it is you need help with throughout the workday. Then you can begin looking for one or more virtual assistants that offer the services you need.
Next, let's take a look at where you can find virtual assistants.
Look at Freelance Job Platforms
There are a number of job platforms online today you can use to search for qualified virtual assistants.
These job boards feature all sorts of digital professionals, including freelance writers/editors, sales professionals, and telemarketers. Then there are others who advertise themselves as virtual assistants.
When you're looking for help with your business, it's all about finding the right talent. So it's not so much about the title, but the skills they boast.
A lot of the job platforms out there today help business owners connect with candidates in a more personal way. For example, you're able to view their profile, send a DM, and even have live chats with them.
Being able to have a conversation in advance allows you to gauge whether an individual is a prospective candidate or not. It cuts down the time spent interviewing the wrong candidates.
These sites also help you find top talent based on rating systems. For instance, you'll find one virtual assistant has three stars, while another has five stars.
It's good to read through the reviews to determine why they receive higher or lower ratings. You may find that the complaints aren't an issue for you – for instance, not being a fluent Spanish speaker.
This isn't important if you're looking for someone that's English.
It's also a good idea to consider the newcomers who just entered the platform. These individuals don't have experience on the platform, but they may have a ton out in the real world.
And they may also offer lower rates.
Once you find prospects you're considering, you can invite them to a Skype or Google Hangouts session for an interview.
Check Out Social Media Networks
Just about everyone is on social media, especially entrepreneurs who work via the web. Let's say you're looking for a virtual assistant to help you with your social media posts – this would be a great place to locate them.
There are different social media networks you can focus on depending on the skills you're looking for. For example, if you are looking for business professionals, then you wouldn't head over to a site like Instagram.
Yet, if you're looking for someone that excels in video editing and graphic design, then you'd want to use a platform that showcases their video and image skills.
What's also great about social media is that you're able to learn a lot about a prospect just by looking at their profile. For instance, you can browse through their wall of posts and see what type of lifestyle they have.
Do they have children? Are they busy? Do they appear professional or wild?
These are details you don't want to overlook, especially if this individual will be representing your business. They may also display their skills and portfolio, which can also help you to determine if they're a good fit.
Visit their website, if they include one. And if you feel they're a match, then send them a private message on social media. Or directly on their website.
Attend Virtual Assistant Networking Events
Sometimes, you'll find networking events held locally in your town or state. These are great places to find potential VAs.
These events may not be specifically for virtual assistants. For instance, they may be a networking event for businesses and professionals.
You'll find virtual assistants coming to these events to give out business cards and resumes. Some may have their own booths. While others walk around to company booths to engage.
Then there are the online venues you can use to network. For example, you can find online events held on professional networking sites.
This will help to broaden your reach since you're able to connect with virtual assistants from all over the nation (and even the world).
You never want to limit yourself, especially when it comes to remote workers. The beauty of virtual employees is that they can be anywhere!
Tap into Your Professional Network
Hopefully, you've been growing your business network. If so, then this is a great place to tap into. It's likely that one or more of the professionals in your network are using virtual assistants.
You can put out a blast on your social media network where you're connected to them. Or you can send out private emails.
Either way, let them know you're on the search for a quality virtual assistant and want recommendations. They can either recommend specific people or places where they found their own VA.
You may also want to contact includes influential mentors you may be following or receiving coaching from.
Go to Seminars and Workshops
Seminars, workshops, and other gatherings are excellent places to link with assistants offering virtual services. These are typically industry-related, so you'll be able to find professionals that specialize in your business type.
For instance, if you're going to a marketing workshop, then the VAs you find there will have industry knowledge. This is ideal if you're looking for a virtual assistant who can help you with your marketing tasks.
So keep this in mind if your intent is to find a virtual assistant at a particular seminar. Look for seminars in industries you need assistance in.
Coming at this with a strategy is key!
Professional VA Sites like Uassist.ME
Now, if you don't have the time to look for a virtual assistant on your own, then it's a good idea to look for a virtual assistant service.
At Uassist.ME, you get access to a plethora of virtual assistants with different skills across various industries.
And what's better is that you don't have to find the perfect virtual assistant all on your own. Instead, you can use the services offered through the platform.
You receive help in not only finding prospective virtual assistants but interviewing them as well. This way, you can focus on your business, while we help you find the perfect virtual assistant for your needs.
The virtual assistants in this platform are experts in scheduling, writing, organizing, office administration, accounting, real estate, business communications, and more. Plus, there are bilingual assistants who can speak English and Spanish.
This can be beneficial if you're looking to expand your operations to the Spanish market.
Once we match you with an ideal virtual assistant, it doesn't end there. We continue to offer support. This includes helping you delegate tasks to your virtual assistant.
If this is your first time, this assistance will come in handy -- especially, if you're not sure what to begin with. It may take time adjusting to using a virtual assistant and delegating tasks to them.
However, you'll find that the savings in time and money will be more than worth it!
Finding Your Next Virtual Assistant
Are you ready to start saving time and money on business operations? How about boosting productivity and your revenue?
Then it's time to start searching for your next virtual assistant. With the above tips, you should be able to do so.
You can attempt to search for one on your own – which can take a lot more time scouring through the candidates and pinpointing the right one. Or you can opt to use our virtual assistant services.
Not only will this save you time, but it'll also eliminate potential headaches and stress. We will help ensure your next virtual assistant is the right fit.
And if you decide to hire more, we'll help you expand your team. You'll find that there are many areas of your business you can use a virtual assistant's help.
Working with remote employees is one of the best ways to get the help you need without breaking your budget. After all, you only pay for the services provided.
Goodbye benefits and full-time pay – hello freedom and prosperity!
Contact us today to get started!