In a world full of distractions, it can sometimes be difficult to fully dedicate your attention to the work you're doing. This behavior ends up creating a longer work cycle and disorganization, which hinders your productivity. Thankfully, a host of tools and services exist to help eliminate distractions, organize your workload, improve collaboration, and increase your productivity.
These are 10 of our favorite productivity tools and services:
Project & workload management
These tools help manage your projects and workload, so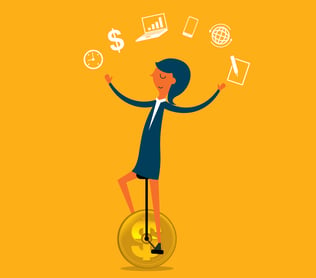 you can tackle each task in an organized and prioritized manner.
Asana
If you're working in teams, Asana lets you set up different projects, assign tasks with deadlines to team members, and communicate about progress.
Trello
If you're a visual worker, Trello allows you to create boards which organize tasks, lists, and inspirational material.
Evernote
One of productivity's biggest players is Evernote. Their free product is perfect for simple, personal organization by enabling easy note taking, tracking tasks, finding online resources, and syncing all this information between your devices.
Toggl
One important piece of productivity is understanding how long it takes you to complete tasks so you can appropriately budget time when these tasks repeat. Toggl is a timing tool which measures how long you take on each task you complete.
Improved collaboration
When you work with other teammates or stakeholders, especially remote ones, collaborating effectively is critical to streamlining how long shared tasks take.
Slack
Slack is a messaging app for teams with both free and paid versions. It allows you to easily communicate with different stakeholders via chat and has additional collaboration features, like video messaging and document sharing.
Google Drive
One of the easiest and most accessible collaboration tools on the market is Google Drive, which includes cloud-based, collaborative versions of documents, spreadsheets, presentations, and more. Multiple users can simultaneously work on the same file, add comments or suggestions, and then save to a shared folder.
Removing distractions
One of the biggest hindrances of productivity is hard-to-avoid distractions. These tools help organize and remove distractions so you can stay focused.
IFTTT
IFTTT (If This Then That) is a tool which allows you to set up custom interactions between apps and services to automated workflow and take small (and easily forgettable) tasks off your plate, like scheduling meetings, tasks, or reminders.
SaneBox
Tools that wade through your email inbox to declutter and provide you only the most relevant content can help remove unnecessary distractions while you're trying to work. These tools can be as easy as setting inbox rules, but more advanced tools like SaneBox, give you more customizability.
Website Blockers
If you're a Google Chrome user, there are several free add-ons, like WebsiteBlocker or StayFocused, which you can use to block distracting websites (think: social media) for a given period of time which you set for yourself.
Sharing the workload
Delegating tasks enables you to focus on the work you love to do, complete more work in less time, and increase the quality of the work completed.
Virtual Assistant Services
One of the best productivity tools available is virtual assistant services, which allow you to delegate some of your tasks to a skilled virtual assistant. Uassist.ME virtual assistants are trained in a wide range of services (from calendar scheduling, to website development, you name it!) so you can delegate anything you don't have time for, aren't as skilled at, or don't love to do. If you'd like to learn more, please request a consultation.
These productivity tools and services will help take work off your plate by keeping you organized, automating repeatable items, and eliminating distractions so that you can become more productive. If you're wondering what else you can do to be more productive
and
improve the quality of your work, read this resource:
The Ultimate Guide to Efficiency Hacking
.